…..

,,,,,,
About International Best-Selling Author, DARREN PRINCE, His Book, Career, and Giving back:
…..
CAREER
Darren Prince is a sports and celebrity agent who, at the age of 14, founded a mail-order company selling baseball cards and traveling around the country participating in trade shows. At the age of 20, he sold his company and became an industry leader in private autograph signings for sports and celebrity memorabilia with athletes and celebrities. A-List celebrities included Muhammad Ali, Hulk Hogan, Pele, Joe Montana, Carmen Electra, and Jenny McCarthy.
In 1995 Prince started a new venture with Prince Marketing Group (PMG), representing athletes and celebrities for marketing deals consisting of endorsements, licensing, TV, movie and book deals, autograph signings, and appearances. His first client to sign with the firm was none other than Magic Johnson. Soon after Smokin' Joe Frazier, Dennis Rodman, Pamela Anderson, and Chevy Chase followed.
With PMG growing at an enormous pace, Prince added Scottie Pippen, Clyde Drexler, Mickey Rourke, Roy Jones Jr, Micky Ward, and the late Evel Knievel as clients over the years. The sports/entertainment industry is a small world and very competitive," says Darren Prince, CEO of Prince Marketing Group. "Prince Marketing Group has prospered over the years by delivering out of the box thinking for clients and building relationships through the practice of good business and effective networking."
Prince Marketing Group is currently a multi-million dollar business that has negotiated over $200 Million in deals and currently secures marketing deals, arranges signing/memorabilia appearances, commercial licensing, product endorsement, and voice-overs.
Darren is a true entrepreneur as he has been able to continuously reinvent himself and significantly grow his business over the years. He has been featured in outlets such as Your World With Neil Cavuto, The Big Idea with Donny Deutsch, CNN's Anderson Cooper 360, Hannity & Colmes, ESPN, New York Times, Wall Street Journal, New York Post, USA Today, Forbes' Sports Money, On the Record with Greta Van Susteren, Howard Stern radio, CNBC The Closing Bell and a variety of others for his marketing expertise.
….
AIMING HIGH FOUNDATION:
Today Darren gives back to those who suffer from addiction. Darren Prince, International Best Selling author of his memoir "Aiming High" is a prominent sports and celebrity agent and global advocate for addiction and recovery.
As a leading authority in this recovery space, his insights have been featured in WSJ, NYT, USA Today, CNN, Fox and Friends, Tucker Carlson, and Dr. Oz. From selling his first business at 19 to building a multimillion-dollar talent agency, Darren has experienced what life is like in the celebrity world. Unfortunately, he also saw the dark reality of addiction through his own personal struggle. After over 11 years of sobriety, it's now Darren's mission to help others avoid and break free from addiction.
Through his new cause and the Aiming High Foundation, he has become a sought after speaker on addiction recovery and mental health. He specializes in helping high functioning addicts and at-risk executives to identify and avoid the pitfalls of addiction and especially enjoys working with teens teaching them self esteem and self-worth.
….
ABOUT HIS BOOK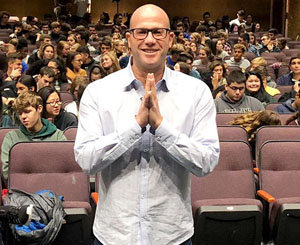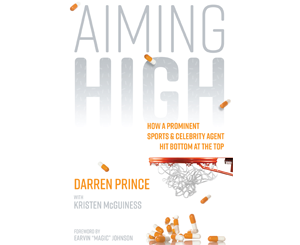 ……..
Aiming High is the astonishing story of sports and celebrity agent Darren Prince, who battled addiction while representing some of the most iconic figures in the world. After a drug overdose, many demoralizing nights, and mornings where he couldn't get out of bed without a prescription in hand, Darren hit rock bottom at the top–and in the process discovered the true meaning of success. The paperback and ebook now on sale and available at MyBookOrders. Now available as an audiobook and you can listen FREE with Amazon Audible Free Trial Membership!
……
MY REVIEW FOR "AIMING HIGH" and EDITORIALS 
Aiming High: How a Prominent Sports and Celebrity Agent Hit Bottom at the Top
by Darren Prince (Goodreads Author), Kristen McGuiness, Earvin Johnson (Foreword)
A Memoir of Addiction, Self-Discovery, and Freedom Within Recovery
Not many of us get a second chance in life after addiction. Not everyone reaches the height of the business world while having a self-imposed problem with opioids until you overdose. That is what happened to Darren Prince as he shares all in his intriguing memoir of "Aiming High." Being a top sport and celebrity agent while representing some of the most iconic and legendary figures of our generation didn't mean Darren was not immune from addiction either as he shares in his memoir.
Another lesson you will learn from reading Darren's book. As a person maintaining recovery myself, I have learned that "Addiction of any kind does not Discriminate of whom it will touch"… Something Darren understands today and brave of him to share his testimony while sharing many memorable stories throughout his career as he weaves his downfall, but most important, how he fought like hell to gain his life back within recovery. He also proves we stay "sick as our secrets." And that is part of the disease of drug addiction.
I won't lie; it is impressive to continue working in a high-profile career and hiding a secret of drug addiction. But? The bigger you become? The harder they fall. But Darren got back up and now shares all to help others who may suffer in silence just as he had. He is a real example that if want your life back from addiction? You have to do the recovery work needed, and Darren shares it as well. The fantastic stories alone make the book a great read, but the clear message is there is HOPE after addiction, and recovery is possible for anyone.
"Aiming High" needs to be read by everyone because it has an extraordinary message of endurance, acceptance, and HOPE.
~Lyon Media Services & Literary Consulting –Catherine Lyon~
….

MORE REVIEWS and EDITORIALS 
"For 17 years, Darren has worked 24/7 as my sports agent.  I've seen him at his worst and now at his best. Aiming High is all about the journey he took to get there, and how today he is living a spiritual life one day at a time.  Ten years ago, he asked for the blessing and now he's become one."
Hulk Hogan
"Aiming High is an amazing story of struggle, acceptance, and embracing the power of recovery."
"Well done Darren for the release of his memoir "Aiming High". His story of opiate addiction to sobriety while managing revered icons of our time."
Amazon ReviewS:
5-Stars!
Aiming High is an identifiable story of self will run riot, the inability to be true to oneself, and the power it took to finally deal with life on life's terms.
Darren's acknowledgment of what it was like, what happened, and what it's like now is so honest, courageous, and inspirational! This book needed to be written and more importantly, needs to be read!

Daniel

Matthew Israel
's Review
Oct 03, 2019
Read 2 times. Last read October 3, 2019.
MUST-READ!!!! YOU WILL NOT BE ABLE TO PUT IT DOWN!!!
As the opioid epidemic continues to worsen in this country, people need to learn more about it, especially if anyone close to you is battling this horrible addiction aka disease of the mind. This story is almost surreal, but shows how it can happen to anyone! This book was extremely well written. One of those rare books you won't put down until it's complete!
…….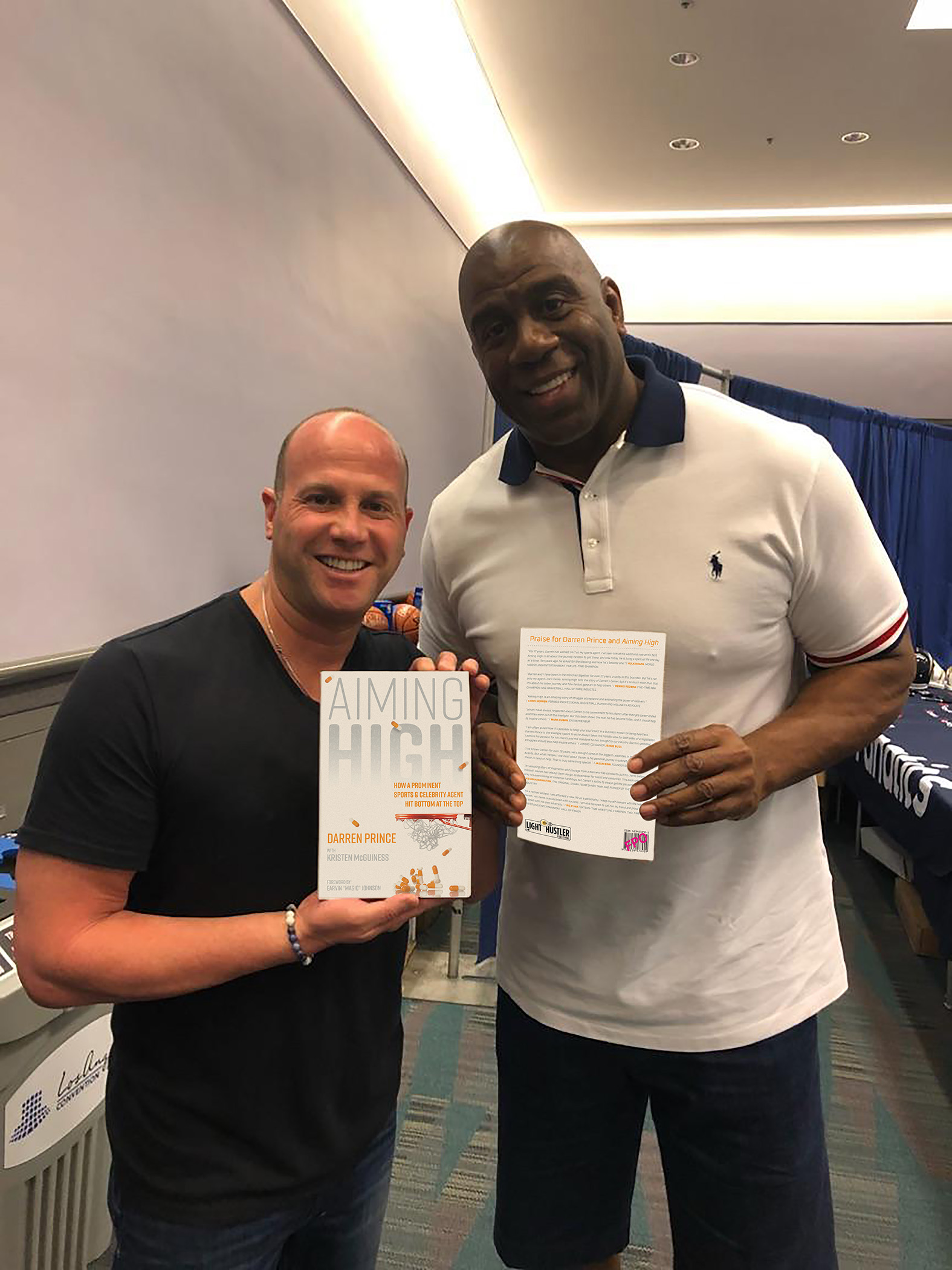 …..

FORWARD Written by Earvin "Magic" Johnson Former NBA Legend:
Darren and I have worked together for 24+ years
. During that time, he has worked 24/7, negotiating memorabilia signings, speaking engagements, appearances, and other services. It's an honor to write the foreword for his book.
Transitioning from being a renowned athlete to a successful businessman was not easy, and I like working with people who are trustworthy, motivated, and efficient. Darren was all of the above. After the second time working together for one of my signings, Darren told me that his parents were downstairs in the hotel lobby and asked if they could join us. Meeting Darren's parents helped me realize how important family was to him. His business wasn't about making money; it was about building relationships and growing extended family. He made me a part of his family, and he became a part of mine.
Two years later, Darren shared his dream to become an agent and start Prince Marketing Group. He was young, but he had a plan and he knew what he wanted to do in life. I wanted Darren to be more than successful, so I continued to work with him as his client. Over the next few years, I watched as he worked with some of the biggest stars in sports and entertainment, such as Smokin' Joe Frazier, Muhammad Ali, Pamela Anderson, Chevy Chase, Larry Bird, Dennis Rodman, Hulk Hogan, and many, many others.
As good friends, in 2006 Darren talked to me about very challenging times that he was undergoing, the most challenging being an opioid addict. "Earvin," he said, "I can't get out of bed in the morning or function during the day without painkillers. It's taken over my life. Talking, traveling, working out, eating; I can't do anything without the pills. I can't stop."
Nothing was bigger than the painkillers that he was addicted to, which were slowly taking his life. I had seen too many lives destroyed from addiction and knew he needed to get his life in order. It took some time for Darren to reach complete sobriety. After almost nearly losing his life to opioids, Darren overcame the addiction and built a greater life through his recovery.
Through sobriety, he has continued to expand his business, and he is using his testimony to help others fight their addiction. Amidst all the tragedy that has resulted from this opioid epidemic, Darren has the courage and support to share his story and inspire thousands of people in this book. Darren is a survivor!
"Today, Darren doesn't just represent the biggest stars; he has become a star in his own right in the world of recovery."
He speaks in schools all over the country, and he is dedicated to Turning Point, where he was awarded the Lifetime Achievement Award at their recent gala. Darren has appeared on Dr. Oz and other national media to share his message on recovery.
Recently, he began working with the White House Commission on Combating the Opioid Crisis, where he plans to educate youth on how they can build self-worth and faith so they don't go down the same road he did.
Over the years, I have watched Darren Prince grow in his business, tackle his addiction, and now lead a life of spirituality and inspiration. I am extremely proud of the man he has become, and I am honored to be a part of Darren's family.
I hope his book inspires you to overcome any battles you may be fighting and to be a light unto others.
– Earvin "Magic" Johnson 
Connect with Darren on Social Media 
Visit the author: Website, Facebook, Twitter, Instagram, Goodreads, Amazon, Linkedin,