Most of my friends here know this CAT maintains recovery… This month over on my Recovery Blog I am raising awareness as it is Problem Gambling Awareness Month. I am supporting the fine folks of The National Council on Problem Gambling, an exceptional resource for those who need help from a problem with gambling. Here is my first Special Events and had a BLAST doing this show with my new friends from Merced/Modesto, Cali, and Hosts of The "Knockin Doorz Down" Podcast of the race car driver, Carlos Vieira Foundation!

We had some fun while chatting about some serious topics of addicted gambling and recovery, childhood trauma and healing, and mental health, all these have affected my life. Today I advocate about it all and I'm honored to find help and hope for those who reach out!
#GodisGood and Gave me my Life Mission.

~Catherine Townsend-Lyon, Author/Advocate/Columnist
Bet Free Recovery Now...Sharing Hope, Help & Recovery From Gambling Addiction, News & Resources.
With March beingNational Problem Gambling AwarenessMonth, I try to have a few special events to share on my blog, like the one I'm about to share. I happened to be on my recovery Twitter @LUV_Recovery when I saw my Tweet Pal, former WWE Kurt Angle's podcast episode clip by KDD Media. I had no clue who KDD was but wanted to support them and Kurt with some retweets.
When Kurt's show was released, I went to take a listen and watched it over on KDD Media's Kick-Ass website ~ Knockin' Doorz Down Podcast at https://www.kddmediacompany.com/podcast/ …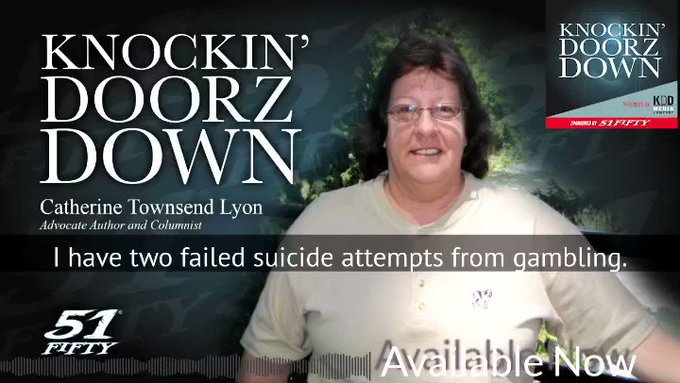 I hope you will listen to my story to have hope that we do recover and encourage you to visit KDD as the guest list and stories are real, raw, and powerful. The real stars are Jason and Mikey! These…
View original post 681 more words