The Girl from Cairo
A Memoir by Peggy Hinaekian
---
Non-Fiction – Memoir
260 Pages
Reviewed on 03/27/2021
4-STARS ✨✨✨✨✨
Review Page: https://readersfavorite.com/book-review/the-girl-from-cairo
For immediate release:
Author's new book receives a warm literary welcome.

"Readers' Favorite announces the review of the Non-Fiction – Memoir book "The Girl from Cairo" by Peggy Hinaekian, currently available at" http://www.amazon.com/gp/product/166413381X.
Readers' Favorite is one of the largest book review and award contest sites on the Internet. They have earned the respect of renowned publishers like Random House, Simon & Schuster, and Harper Collins, and have received the "Best Websites for Authors" and "Honoring Excellence" awards from the Association of Independent Authors. They are also fully accredited by the BBB (A+ rating), which is a rarity among Book Review and Book Award Contest companies.

"Reviewed By Grant Leishman for Readers' Favorite"
"The Girl from Cairo: A Memoir by Peggy Hinaekian is the autobiography of an Armenian girl who grew up in exile in a suburb of Cairo known as Heliopolis. Peggy's family were considered well off by Egyptian standards but her mother was required to jump through all sorts of hoops to keep their true economic status a secret from their friends and neighbors. Peggy's father was a roguish, but lovable character whose one fatal flaw was his inveterate gambling. His gambling had cost the family dearly and they lived on their wits, especially Peggy's mother's wits to hide their true economic downfall. Attending a strict Catholic girl's school in Heliopolis, Peggy's lack of knowledge of sexual matters was exposed as she fell desperately in love.

Living in Cairo, through WWII, an Egyptian war for independence and war over control of the Suez Canal made for a scary route to adulthood for the young woman. All through the troubles, though, Peggy's vision for her own future never faltered. She would, she believed, travel to America and make it into movies or as a fashion designer. As the country descended into war over the Suez Canal, it was time for Peggy to leave Egypt and seek her fame and fortune in the big, wide world.

The Girl from Cairo: A Memoir is an interesting story of a different culture and the difficulty of growing up in a country where you not only look different than the majority of the population, but your ideals, mores, and cultural beliefs are in stark contrast to the bulk of the people. Author Peggy Hinaekian did come across at times as incredibly self-absorbed and perhaps even selfish but one has to weigh that against the whole concept of being seen as a foreigner, or an interloper in the country where you were domiciled.

Doubtless, the Armenians in Egypt felt they had to look to themselves first and foremost because nobody else would. What struck me the most was the willingness Peggy showed to change direction and often location with little or no planning of how she would survive in a different situation. Her courage and belief in herself were so refreshing for a young woman of this era. I particularly enjoyed her willingness to flout established practices and norms in Egypt. She was a woman who knew her own mind and nobody was going to tell her how she should behave. This is an intriguing coming-of-age in a situation that few of us could imagine, let alone experience."

"I did enjoy this read and can definitely recommend it."

(You can learn more about Peggy Hinaekian and "The Girl from Cairo" at https://readersfavorite.com/book-review/the-girl-from-cairo where you can read reviews and the author's biography, as well as connect with the author directly or through their website and social media pages.)
Readers' Favorite LLC
Media Relations
Louisville, KY 40202



BIOGRAPHY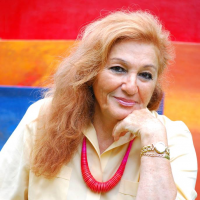 Of Armenian origin author, Peggy Hinaekian was born and raised in Egypt. Her paternal grandfather had the largest private library in Egypt, and Peggy was introduced to books in three languages (English, French, and Armenian) at a very young age.

Peggy grew up in a very cosmopolitan environment and was an avid reader. Since the age of ten, she kept a journal and always wrote short stories, essays, and children's picture books.
She immigrated to Canada with her first husband and then went on to the United States, where she pursued a career in fashion designing in New York in fine arts. After her divorce, she left that behind and moved to Geneva, Switzerland, and continued her career as an artist.
Peggy Hinaekian is a writer and author; she is an internationally recognized, well-established artist living and working in the United States and Switzerland.
Now with three literary works to her credit, you may purchase her books from Amazon, Barnes & Noble, Kobo, and many fine online book stores. She is married, raised three beautiful sons, and resides with her husband part-time in Florida and California.




The Author On Amazon Link https://www.amazon.com/Peggy-Hinaekian/e/B01LX3F0WR/

You can connect with the author below

 Website, Facebook, Twitter, Instagram, Goodreads, Amazon, Linkedin