BIOGRAPHY
Shawna James is an award-winning author & writer. Her debut novel "Despite the Devil" was released in audio, paperback, and hardcover in Spring 2021 as part of her "They Loved Collection" book series. She has received 5-Star awarded book reviews, including a Readers Favorite, and is a winner of the Canada Book Awards, as she quickly began gaining reader fans from around the world.

This author has book two of her collection now at a special pre-order price, titled "As It Should Be," and releases July 7th, 2021 as the e-book is specially priced for all her reader fans at .99 cents until release day on Amazon Kindle! All Shawna's books will be available to on Kobo, iBooks. Book one is available on Amazon, Barnes & Noble, Kobo, and many fine bookstores.

Popular for her unique style of writing, sharing real life elements into her fictional drama stories like social and women's issues, some law and family court issues, with a splash of contemporary and untraditional romance that brings her characters and storylines to life.

Shawna, a Canadian author, holds a masters' degree in education and works as a university instructor, fueling the bright minds of her students. When she is not writing in her favorite coffee shop or instructing, she enjoys the great outdoors and loves hiking with her puppies. She also enjoys traveling abroad, is an avid reader, and enjoys family time and watching her favorite football games on Sunday afternoons. She calls herself a writer, a dreamer, and traveler. Cat thinks those are all great qualities! She continues to reside outside the Vancouver, Canada, area.

The author welcomes readers, publishers, and agents to visit her Official Author Website for all her author news, updates, new releases and is open to interviews and author podcasts at https://ShawnaJames.com …You may connect with her through her social media: Website, Facebook, Twitter, Goodreads, Amazon. You can also interact with her on https://reedsy.com/discovery/user/shawna-james



"They Loved Collection" ~ Books By Shawna James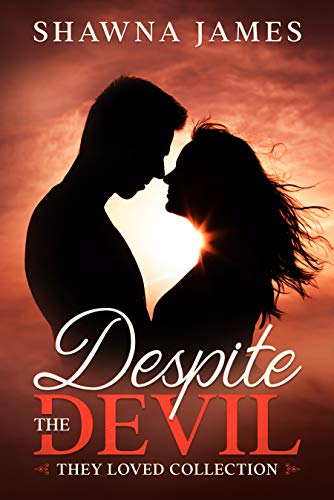 Despite the Devil
by Shawna James now on Amazon: https://www.amazon.com/Despite-Devil-Untraditional-Romance-Collection-ebook/dp/B08L1G7PBF/ also available in paperback, and audiobook!

Published: Nov 11, 2020
Series: They Loved Collection Book One
Contemporary Romance Women's Fiction Literary Fiction
Book Overview
Stephanie gazed at Andrew's clean-shaven, long and slender face. His dark green eyes were captivating. His brown hair was neatly combed to the side. His eyebrows were thick and kind of joined in the middle, and his nose looked even sharper from the angle at which Stephanie was now looking at him. Girl, he's handsome! Stephanie thought, And that accent!
When Stephanie meets Andrew Simmons, she believes she's found the perfect man: smart, handsome, kind, and athletic. Best of all, the Norwegian former soldier is as interested in her as she is in him. But as their romance begins to blossom, Stephanie learns that Andrew's past could haunt their life together. His dangerous earlier life may destroy the happiness the two of them share. Will Stephanie and Andrew's fairytale be strong enough to resist the wickedness from Andrew's former life?
Winner of the Canada Book Awards!

AND

A Readers Favorite 5-Star Awarded Book Review!


Reviewed by K.C. Finn for Readers' Favorite ~ 5-STARS
Despite The Devil is a work of fiction in the women's fiction, contemporary romance, and interpersonal drama sub-genres, and was penned by author Shawna James. This compelling and emotional tale focuses on the central couple Stephanie and Andrew, whose initial romance seems ideal and a true match made in heaven.

But Andrew has skeletons in the closet from old mistakes, and both he and Stephanie always have one eye on the past, consumed by the fear that it might come to destroy their future. What results is a poignant, romantic, and emotional tale about finding love and fighting for it, with faith and perseverance.

Author Shawna James has crafted a romantic drama that delivers clean content suitable for readers of all sensitivities, and with a deep sense of passion and devotion from its central pairing. More than this, the work smacks of realism thanks to the grounding of the characters and their realistic dialogue. When faced with adversity they react in ways that we as readers can really relate to, and it compels us to go with them every step of the way on their journey.

One of the things I particularly liked about the work was the plot structure, which keeps things interesting as different elements being revealed. We get some great highs and lows as we see how Andrew and Stephanie deal with the bumps on the road. Overall, I would certainly recommend Despite The Devil for its realistic approach to contemporary drama. A well-written work indeed… Highly recommend this read to women.



Another Book Reader and Reviewer Said This About "Despite The Devil"

The story of Despite the Devil is a phenomenal book because it encompasses everything good about literature. It has a brilliant plot, enthralling characters, and an incredibly well-thought-out story that will keep the reader wanting to read for hours on end. Despite the Devil is a unique and special book; it is exceptional for the apparent reasons… that it encompasses everything great about the written word, but it is unique because of the plot. The plot of this novel is unique for the romance genre in my opinion and it reads like a movie, and you can imagine the details in perfect glory!

Shawna James, the author does an incredible job of piecing together romantic elements with exciting and suspenseful moments and seamlessly integrates themes into one book of intrigue. James' is a phenomenal writer because the author is dedicated to her work as well as passionate. James' passion for the written word shines off the page and into the reader's mind; her sometimes lengthy, beautiful descriptions will send the readers mind into visual overdrive, the reader will be able to perfectly imagine every detail the reader comes across and that in my opinion, is a sign of a talented author.


NEXT UP IS BOOK TWO BY SHAWNA JAMES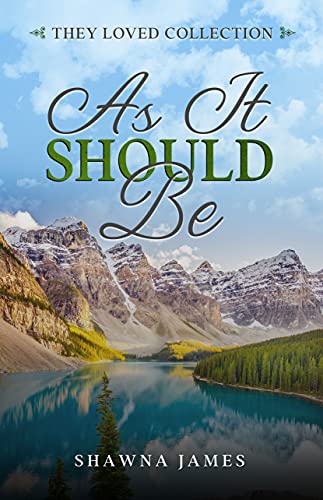 Buy Now on Pre-order for $0.99 Cents Kindle DEAL ENDS ON JUL 07, 2021!
eBook only.


As It Should Be (They Loved Collection Book 2)

by Shawna James now on Amazon: https://www.amazon.com/Should-They-Loved-Collection-Book-ebook/dp/B093RVCNYJ/

Publishes: Jul 07, 2021 Pre-order
Series: They Loved Collection ~ Book Two
Contemporary Romance Women's Fiction, Literary Fiction
Book Overview
Andrew and his wife, Stephanie, thought they had bought their safety and freedom. Just as they had settled into an idyllic life in Norway, the table turn again, into a living nightmare. They are forced to move back to Canada and run through yet another convoluted maze.

Upon arriving back to the country in which they met, a man in a blue Jetta begins following Stephanie and their daughters.

Can Andrew protect his family from the looming threats?
And who is following Stephanie?

Even in the midst of difficult circumstances, Andrew and Stephanie stay positive and strong for their daughters, hoping that someday the curse will be lifted.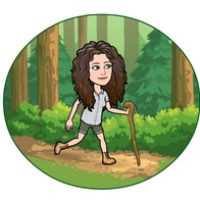 Want to learn more about the Author? Shawna appeared on the fabulous and popular authors podcast "Words With Writers," The Romance Show a few months ago.

Now you can take a listen to her episode here: https://www.podbean.com/ew/pb-8awgt-fe7ace




Episode Eleven Release Date: March 21, 2021 ~ With Author Shawna James.
Get ready to share the love with this month's romance themed episode! Co-hosts Chris Gorman and Brandi Tanner welcome Lilith Darville, who will share an excerpt from Tate's Tale, book one in the Sexy Sins Afterlife Retreat Series, and Shawna James, who will read from her novel Despite the Devil, which is part of her They Loved Collection.
This episode does contain some language that may not be suitable for younger listeners.