As most of my readers and friends who visit me know that Cat gets a bit excited and love to share Good News when my friends and fellow authors are doing well. That is what I love to do and is my passion! Marilyn Davis has been a very busy girl lately with some exceptional news, reviews, interviews, and much more!

First, she was recently chosen and invited by a great place for both Authors and Readers over on All Author to be interviewed and featured on their website. I couldn't Highly Recommend them any more for authors who want to promote their books effectively with the range of amazing tools they offer authors when you register for FREE.

They do offer two different affordable Pro Author Plans and it unlocks every tool to use free and unlimited and is very reasonable priced. Authors can learn more here: https://allauthor.com/author-program/ and I urge you to take a look and see! Here is a little of the in-depth interview with Marilyn Davis.

I be sharing some News and Updates as she has received another Readers Favorite 5-Star Book Award for her new second book, a writers guide and workbook titled "Memories into Memoir: The Mindsets and Mechanics Workbook" and much more. But first, some of here All Author Interview.



06, Jul 2021
Genre: Advice & How To, Biographies & Memoirs, General Nonfiction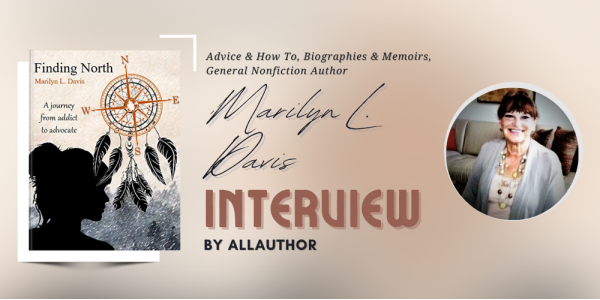 Where did you grow up? What was life like for you then and what do you miss most about your childhood
I was born in Indiana, the older of two daughters. We moved to Tennessee when I was nine and to Georgia when I was eleven and moved to Maryland when I was seventeen. After finishing school in Maryland, I lived in Virginia and Pennsylvania. Now, I reside in Georgia.

I miss the closeness of my parent's families in Indiana. Visiting with aunts, uncles, grandparents, and cousins on their farms was a special treat for me, the city cousin. Grooming horses, bailing hay, collecting eggs, and putting up homemade vegetables, jams, and jellies was great fun. Of course, I only had to do a limited amount, and those regular farm chores probably wouldn't have been as much fun if I had to do them daily.


What does writing mean to you?
Writing for me has always been a release. Whether it's an idea, thought, or feeling, the process of writing moves those from inside my head to paper. I've written since I was a child to process my feelings when I was bullied, to make sense of my day in retrospect, or to write abysmal poetry.

I remember realizing at about age four that the squiggly lines on the pages of a book told the story, and I wanted to understand how that happened, so my mother helped me learn to read at a young age. Using a Child Craft Encyclopedia, we found all the words for "cat," and trust me; there are many cats in the world — lions, tigers, cougars, leopards, and jaguars. Then there were the domestic varieties, so although most of my vocabulary was limited, it was extensive for cats. Maybe that's why I've always liked cats so much.
I still have a fascination for words – their power, grace, and ability to engage readers.


What do you love the most about the art of storytelling?
The freedom to be someone else is a motive for storytelling. I liked the sound of Eufaula, a town in Alabama, so I created a grandmother – Nana Jane — living there and writing to her grandchildren who lived in another state. Researching the town and remembering moments in my childhood, helped me create this fictitious character. As my work progressed, I expanded upon the fictitious aspects of the character and the town. There have been two posts from Nana Jane on my literary blog: Two Drops of Ink.
A person familiar with Eufaula falsely assumed I had lived there — that was when I knew that while Nana Jane was a fictional character, I'd been authentic in her background.


What are some book recommendations for an avid reader?
I immerse myself in genres until I'm saturated with the topic. Currently, I'm reading several books about "ancient scroll/codex/artifact, that if found spells doom for humanity." No, it's not a genre, but it could be. I like the following authors of this type of religious thriller: Khoury, Daniel Silva, Liam Fialkov, James Rollins, John Zodrow, Sam Christer, E. M. Davey, Tom Knox, Charles Brokaw. I also spend time reading about writing. Those authors include:
William Strunk, Jr. Anne Lamott, Natalie Goldberg, Julie Cameron, William Zinsser, Ray Bradbury, Renni Browne, Orson Scott Card, Roy Peter Clark, and Vladimir Nabokov.

What challenges did you face while publishing your debut memoir titled "Finding North: A Journey from Addict to Advocate?"
For years, friends and associates told me that the story of meeting Gray Hawk and opening North House would be an interesting read. My original challenge was overcoming my fear of exposing myself. I don't think I realized how vulnerable I would feel. But I overcame that fear with the encouragement of two caring beta readers and editors who told me there were people who would "Want" to read my story and that there were people who "Needed" to read my story.

The second challenge was formatting. I finally hired someone to do that part for me and did that again with Memoires into Memoir: The Mindsets and Mechanics Workbook.
I write – they format. Once I defined the roles, the challenge was no longer an issue.


How did you celebrate 32 years of abstinence-based recovery?
I celebrated in my usual way by picking up a chip to commemorate the years at my recovery support meeting. It's not about vainglory. It's more about letting a newcomer know that long-term recovery is possible. There's cake and speeches and fellowship with other recovering addicts, so it's always a good time. Think birthday and anniversary rolled into one. 


How would you describe your journey of opening and managing North House, an award-winning residential facility for women, from 1990-2011?
Trial by fire.  
I only had seventeen months in recovery when I opened North House, but I was emboldened by Gray Hawk, a 74-year old Native American who told me he had been trying to find me for over 20 years. 
Gray Hawk told me that he had "seen" in a sweat lodge ceremony in Virginia that he should go to Gainesville, GA, to find the woman who would open the house of healing for other women…
There is more to Marilyn's Story and you can read the rest by clicking here>>>> . Read full interview



Many Book Reviews Coming In!





Marilyn Has Been Awarded a 5-Star Readers Favorite Book Review For Her Second Book Titled "Memoires into Memoir: The Mindsets and Mechanics Workbook."  

Reviewed by K.C. Finn for Readers' Favorite ~ Memories into Memoir: The Mindsets and Mechanics Workbook

Memories into Memoir is a work of non-fiction in the creative writing, educational, and workbook-style sub-genres, and was penned by author Marilyn L. Davis. As its title suggests, this concise and well-organized volume is designed to help those aspiring writers who might want to turn experiences from their own lives into memoir, autobiographical and/or anecdotal writing, with expert tips on how to recall memories, reflect upon them, and construct them in a narrative style that becomes accessible and interesting to a reading audience. The book is laid out with short sections of explanatory prose and workbook sections for the reader to complete as they go along.

Author Marilyn L. Davis has produced a fully comprehensive workbook with twenty-two chapters of excellent advice, guidance, and forward-thinking for any aspiring writer to learn the art of memoir writing. In terms of organization, the work is well-formatted to convey information in a logical manner and allow easy reference to find essential topics again, as well as providing plenty of space for your own reflections and a variety of visual and kinetic formats to lay the work out to suit different styles of learning.

Moreover, Davis constructs a practical and confident narrative voice that both inspires and informs at the same time, making learners feel as though they are in safe hands. Overall, I would certainly recommend Memories into Memoir: The Mindsets and Mechanics Workbook to anyone seeking well-organized works on writing, aspiring memoir writers everywhere, and for anyone with a story to tell.


*** *** *** *** *** **** ***


You can find Marilyn L. Davis and Connect With Here All Over Social Media & AMAZON…

Visit author: Website, Join Author's Newsletter, Facebook, Twitter, Goodreads, Amazon, Linkedin




PRESENTED BY CAT LYON'S READING DEN & LYON LITERARY SERVICES, CONSULTING, & MARKETING PLANS