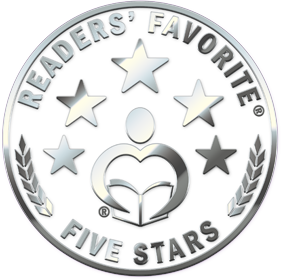 For immediate release:
The author's new book receives a warm literary welcome.

Readers' Favorite announces the review of the Fiction – Literary book "Pearly Everlasting" by Claudia Ricci, currently available at http://www.amazon.com/gp/product/B0BNW9R185.
Readers' Favorite is one of the largest book review and award contest sites on the Internet. They have earned the respect of renowned publishers like Random House, Simon & Schuster, and Harper Collins, and have received the "Best Websites for Authors" and "Honoring Excellence" awards from the Association of Independent Authors. They are also fully accredited by the BBB (A+ rating), which is a rarity among Book Review and Book Award Contest companies.

~Reviewed By K.C. Finn for Readers' Favorite ~ Dec. 2022

"Pearly Everlasting is a work of fiction in the literary style and family drama subgenre.
The work is best suited to the mature adult reading audience owing to its potentially distressing subject matter and the inclusion of explicit language and sexual situations. Penned by Claudia Ricci, this harrowing and heartfelt interpersonal drama follows the meeting of protagonists Salvia Fischetti and Morgan Pochyrus. A painter wracked with guilt and a biker poet find more than just their artistic souls connecting as they battle to save an infant from a terrifying illness, and what develops is a series of emotional challenges that will bring them both closer to one another, and closer to the healing they've always desired.

Claudia Ricci has a keen sense of character that lends itself to this style of storytelling, so much so that you begin to feel that you know Salvia and Morgan personally within just a few pages of meeting them. I enjoyed the close narration and craftwork in the dialogue, which gives each character their distinct parlance but never loses the artsy stylistic edge that reminds you of the beauty of the author's wordplay.

Plot-wise, there's much to enjoy, with a slow-burning start that contextualizes Salvia's great loss and deep pain. There are some heart-breaking parallels drawn and difficult moments later that echo back perfectly to the opening chapters to leave readers feeling satisfied with the journey of growth and healing that's taken place.

I would not hesitate to recommend Pearly Everlasting to fans of artistic and literary writing that also digs deep into human emotion and connection."
You can learn more about Claudia Ricci and "Pearly Everlasting" at https://readersfavorite.com/book-review/pearly-everlasting where you can read reviews and the author's biography, as well as connect with the author directly or through their website and social media pages.

Readers' Favorite LLC
Media Relations
Louisville, KY 40202
800-RF-REVIEW
support@readersfavorite.com
https://readersfavorite.com

*****************


OTHER NOVELS By Best-Selling Author Claudia Ricci




Brand New Book Release of Pearly Everlasting
E-book On Sale For Only
$2.99!

Pearly Everlasting Claudia Ricci



A MESSAGE FROM THE AUTHOR
CLAUDIA RICCI


Dear Readers –
By some extraordinary coincidence, my new novel, Pearly Everlasting, is coming out in the very same week that my beautiful new grandson, Monte, arrived in Denver! As I sat down to try to figure out what to say about this, my fourth book, I remembered two words that my chiropractor said to me this week: Baby Love.
There is nothing like the love a mother feels when her baby, usually purply blue and slippery, is placed for the first time on her chest. There is nothing like the outpouring of love that explodes from mom and dad to family and friends after that baby is born!
Well, so, you could say this book has at its core Baby Love. Because it is Baby Love in the end that captures the protagonists and wraps them in a blanket of redemption.
At this season 20 years ago, I had just finished a grueling four-month treatment for Hodgkin's Disease, a type of lymphoma that – very thankfully – is curable. I suffered enormously that year during chemo – an experimental treatment that involved five IV cancer drugs each week for 13 weeks – followed by eight weeks of radiation. But as my oncologist said at the end, "I was a poster child" for triumphing over the disease. I am continually and forever grateful for my good health.
Not long afterward, my very good friend Karen Jahn said to me, "So now you've proved it, Claudia, you can get through anything!"
I looked at her and felt my breath catch.  I felt my stomach sink. "No," I said, shaking my head back and forth. "Absolutely not.  I know for sure that's not true. There's one thing I just cannot imagine how I would get through…losing one of my three children."
And so, I suppose it was this deep fear that led me to write my fourth novel, Pearly Everlasting. The main character, Sal – short for Salvia, an Italian name that means "safe, secure, healthy" — loses her teenage daughter Sofie in a car accident. Sal, who feels responsible, sprang to life in my imagination with a wound so deep that she begged me to stay with her, to keep her company in her lonely struggle to overcome her endless grief.
When the story opens, it's been four years since Sofie's passing, but memories are everywhere and they always land Sal in an ocean of tears.
I know that my fictional character is just that. A character in a book. I know, too, that there are many, many fine non-fiction books written by parents who have lost their adored children. Books that can help others deal with this unspeakable grief.
I don't pretend to think my book falls into that category. It's just a story. A story with a very redemptive ending. But sometimes I have wondered, do I have the right to produce a fictional account of one woman's unspeakable sorrow? When I haven't had to endure that sorrow myself?
And then I hear and see Sal, and she is whispering to me, "Yes, please, this story is important, vital," because it shows how life can go on in unexpected ways after the gut-wrenching loss of a loved one.
With that in mind, I offer readers Pearly Everlasting, which follows Sal into an unexpected relationship with a young woman who is pregnant. And also, into a relationship with a man – poet Morgan Pochyrus — who is also grieving the loss of a friend. Guilt reigns for both Sal and Morgan.
Light emerges in the book, however, as the two of them are forced to care for an infant with a life-threatening illness. It makes me feel good to know how the characters land at the end.
I hope you will give it a try!
~Claudia Ricci
Order the paperback or ebook from Amazon. Or email me at claudiajricci@gmail.com if you want a signed copy.
And you can read the first chapter on Amazon by going here.